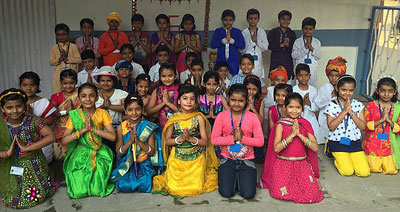 Let's start with some scary statistics: State with highest literacy rate : Kerala (89.8)
State with lowest literacy rate : Bihar (38.5)
District with highest literacy rate : Kottayam, Kerala (95.7)
District with lowest literacy rate : Jhabua, Madhya Pradesh (19.0)
We had to do something to change these numbers… and so we started project Titli Butterfly).
In our Titli programme we have over 200 children who are educated free of cost. We provide them with all the books, stationery and periodic health check-ups as well. They have a fully equipped class-room and most of them enjoy being able to sit under a fan in this scorching heat for the 2 hours that they are in school. We encourage them to take part in all extra-curricular activities like singing, dancing and art – which whilst might be the norm to other kids, is totally alien to these children.
We have activities all the year round for our Tilti students.
We request people to donate
If you'd like to give something to our Titlis, please Get Involved… Its a wonderful Feeling…
Some suggestions for helping are :
Sign up for some time to come and teach them a skill – You'll thoroughly enjoy yourself.
Fund singing classes for them (a real privilege for these students) – Rs 36,000/ year
Sponsor a healthy meal for 250 students – Rs 7,500/- approximately
Donate stationery for the students like colouring pencils, pencil boxes etc.
Sponsor some sporting equipment for the students – Rs 68,000/- approximately
Sponsor music equipment for them – Rs 25,000/- approximately
Rest assured that for all monetary contributions, we always give a receipt. Not a single rupee donated is used for any administrative purpose at all. We use every single rupee for the students – for whom the donation was made.
When donating goods, please keep in mind that we have 250 students and donate accordingly to make each one feel special.
If you or your company is willing and able to help our Titlis in any way, please do pick up the phone and contact us on +91 9631 252 241.
Any contributions made can be claimed as a "tax-free donation" and can be made via checks favoring 'Prarambhika Educational Trust' in India, a tax-exempt I-80-G charitable trust, or in U.S. by making a check payable to "Prarambhika Educational Trust", a tax-exempt 501(c) (3) organization.
For bank transfer, please note the following details:
Current A/c Name : Prarambhika Educational Trust
A/c Number: 31469848527
Bank : State Bank of India
Branch: SK Puri Branch, Patna 800001
Swift Code : SBININBB391
RTGS/NEFT IFSC : SBIN0003114
Or
Current A/c Name: Prarambhika Educational Trust
A/c number: 5020 0028 387100
Bank name: HDFC
Branch: Boring Road, Patna 800001
RTGS/NEFT IFSC: HDFC0000235
Wall of Fame
THANK YOU to our sponsors till date
Mr Amit Mehrora
Mr & Mrs Shashank Bindal
Rotary Club of Fort Gratiot, MI(USA) – International Project – ROSHNI
Neerja & Brian Gasper
Mr & Mrs Anshul Anand
Ms Mohini Gupta
Mr Anshuman Thakur
Mr & Mrs Pramath Raj Sinha
Mr & Mrs Tanuj Choudhry
Mr & Mrs Harsh Choudhry
Ms Mittu Gopalan
Ms Lavanya Sampath
Ms Seems Srivastava